Well, it finally happened. I caught my first fire. Even better, no one was hurt in it... but it was a good one.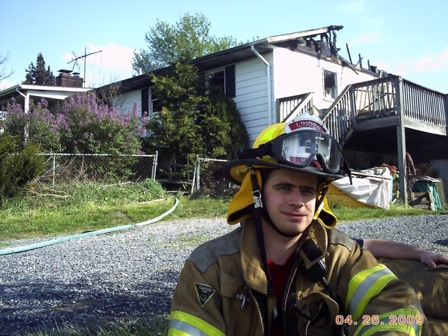 Here's the story:
Saturday blaze displaces couple
Friday night I had been out drinking for the first time in 1 or 2 years and, of course, it was only natural that I'd get to my first fire the day after -- not only that but one of the hottest days of the year. We responded in Tanker 4 with 2+1 (which means 2 certified firefighters and 1 extra man). Ron (the driver) and Mike shuttled water in the tanker and I went up to interior attack. Sadly, I only lasted about 20 mins initially. The house didn't really look all that bad as I walked up the driveway but when I masked up and went inside, well.... I could see the sky. I put the attic ladder up into the rafters of what was the living room and had the nozzle for a while and also was attacking fires that popped up. After being in for about 20 mins I was already getting a low air indicator and I was definately in need of water so I went out and someone from Frederick county walked by and told me to take my gear off and get cooled down. Apparently I was beat red and had a slight case of heat exhaustion. I sat the rest of the fire out and then went back in for salvage and overhaul. Despite me not performing as well as I would have liked it was exciting and a great fire to get some experience on how Warren County operates on the fireground. While I was trained really well in Loudoun County, things are done a lot differently out here in Warren.
I took some pictures of the incident and you can check them out here:
04/25/09-FosterHollow